Oropesa Tin Project
Elementos completed the acquisition of the Oropesa Tin Project in Andalucia, Spain in January 2020. Oropesa is one of the world's largest undeveloped, open-cut mineable tin deposits, with access to world class infrastructure and  represents a near-term development and cash flow opportunity for Elementos.
A May 2020 economic study found the project is a globally significant new tin development with a prospective annual production of 2,440 tonnes of tin metal over a 14-year mine life.
At a tin price of US$19,750/tonne, the mine could potentially generate an annual gross revenue of more than US$48 million against a forecast operating cost of US$28 million per year or cash cost of US$11,534/tonne of metal. The estimated capital development cost is approximately US$52.2m including a 20% contingency.  Forecast financial metrics for the project are:  NPV8  of US$92m and an IRR of over 25%.
Elementos plans to undertake a Definitive Feasibility Study (DFS) and finalise environmental permitting as its next steps in developing Oropesa.
Key features of the Oropesa project include:
A large, well-defined resource – globally significant with strong opportunities for resource expansion;
Open-cut potential – amendable to simple drill and blast, truck and shovel open cut mining operations;
Simple metallurgy – extensive metallurgical testing and process flowsheet designed to produce a 62.4% tin concentrate at a 74.2% metallurgical recovery;
Near-term production potential – advanced metallurgical, mining and environmental studies underway;
Permitting process advanced The team continues to progress the updated EIS submission and is working closely with the local government on this approval process.
Close to development infrastructure – Proximal to major highways which link to export ports, water supply and power supply. The region has a skilled mining workforce;
Low sovereign risk – Andalucia region is home to some of Spain's most significant mining operations and part of the European Union which provides a safe investment environment;
Large sunk cost – significant investment in drilling, geophysics, metallurgical testing and development studies; and
Local community support – The local government and community is extremely supportive of the project moving ahead.
Location & Infrastructure
Oropesa consists of a 14.51km2concession package 75km north-west of Cordoba and 180km north-east of Seville, in the Andalucia region of southern Spain. The Oropesa district has historically been a mining district for base metals, with coal mining ceasing recently.
Tin mineralisation was first recognised at Oropesa in 1982. Intensive exploration activity since 2010, including 261 drill holes, has resulted in the definition of the current mineral resource. The project area contains numerous geophysical and geochemically anomalous regions that could potentially extend this resource with additional exploration.
Figure 1 – Site location of project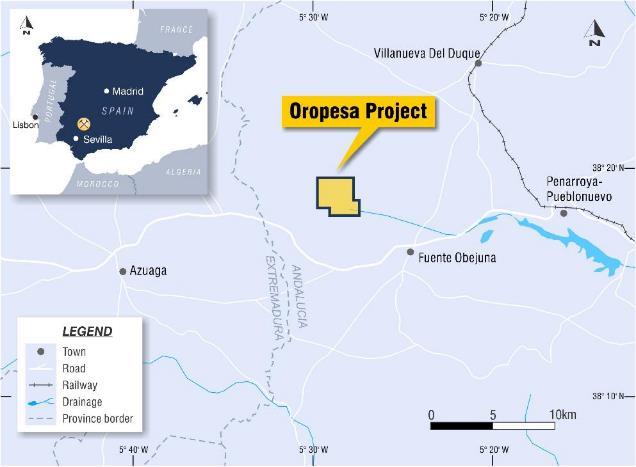 Access to the Oropesa project area is well serviced with paved highways and gravel roads and tracks throughout the area. There is rail access about 16km from the project area. The district also has several power lines of varying voltage capacities.
JORC Mineral Resources
The Oropesa Tin Project contains a JORC compliant Measured, Indicated and Inferred Resource of 67,520 tonnes of tin (see Table 1).
The tin mineralisation (cassiterite with minor stannite) occurs as a replacement style orebody associated with sulphides, predominantly pyrite and pyrrhotite within a sedimentary sequence at the contact between sandstone and conglomerate units. Widespread folding of the sedimentary sequence has resulted in the mineralised sequence being overturned and repeated in places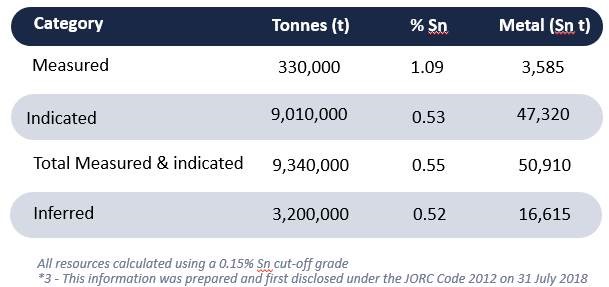 Processing Flowsheet
Elementos completed a performance ore sorting test program utilising TOMRA Sorting Solutions-Mining (TOMRA) on the Oropesa Project ore. The test program delivered excellent results, clearly demonstrating that the TOMRA XRT ore sorting system can successfully separate tin-bearing ore and waste from the Oropesa feed material.
Modelling indicates a waste mass rejection of 25%, with a 24% increase in the tin grade of the feed to a processing plant, for a 92% recovery of the contained tin. Trends in the test work data indicate that further optimisation of the process should improve tin recovery and feed grade.
The Company has commenced further engineering work on the Oropesa Project to incorporate TOMRA ore sorting technology in the process flowsheet.
Permitting Status
An Exploitation Licence (Mining Licence) application for an initial open-cut operation graduating to an underground operation with the potential to produce up to 3,000tpa of tin in concentrate was lodged with the Junta de Andalucia in October 2017. The application entails all technical aspects for the mining and processing of the Oropesa orebody as well as associated infrastructure, equipment and tailings storage facilities to operate the tin mine.
The Environmental Impact Assessment was lodged with the Government in January 2018. The team is currently working with the Government on an EIS update.
Figure 2 – Cross section of the Oropesa ore body looking west
Figure 3 – Oropesa resource location, soil geochemistry and IP geophysical anomalies