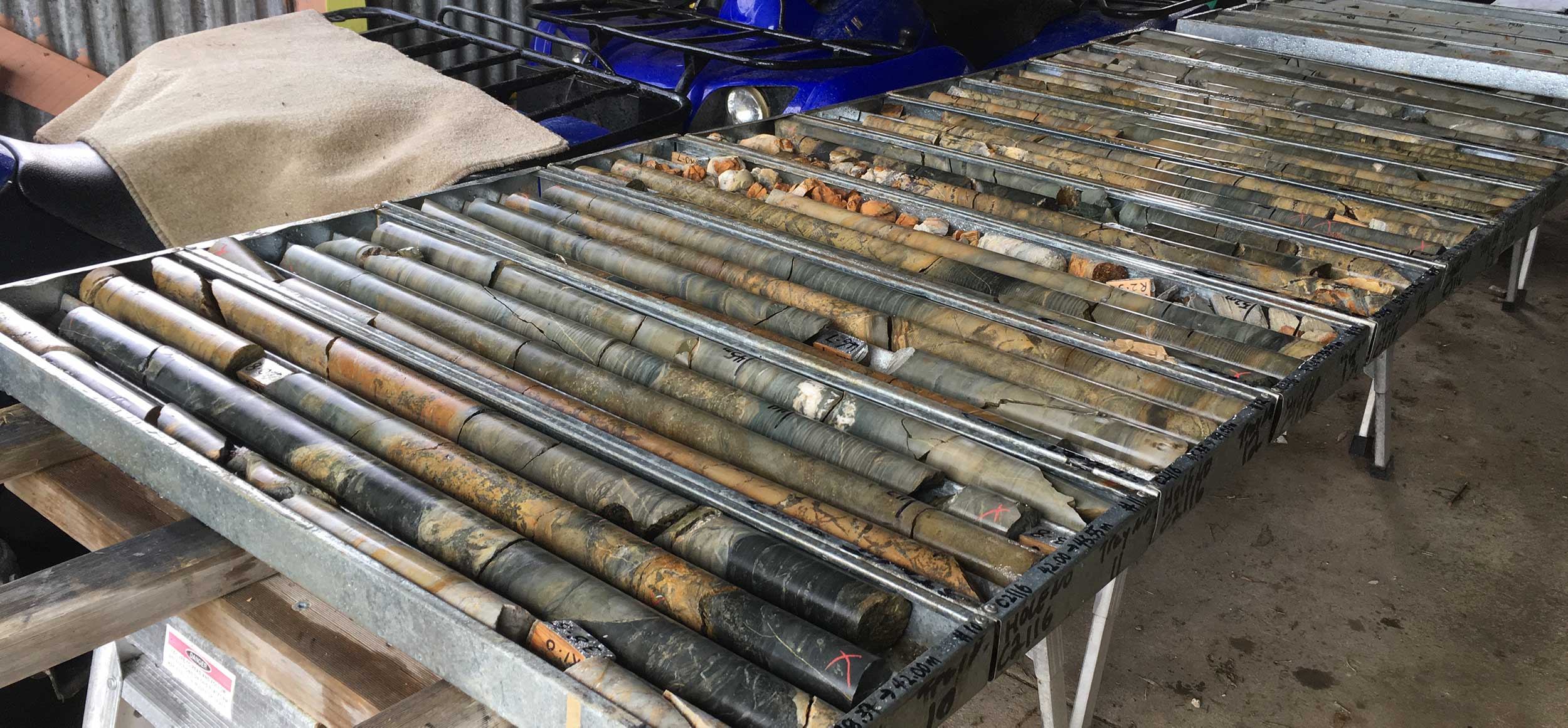 Cleveland Project – Tasmania
Cleveland Project – Tasmania
Cleveland Tin Project – Tasmania
Elementos Limited owns 100% of the Cleveland Tin Project in Tasmania, following a merger in 2013 with then unlisted company Rockwell Minerals Limited. The site is located 80km southwest of Burnie in the mineral-rich northwest region of Tasmania, Australia.
An historic mine that already boasts excellent power, water and transport infrastructure, revised JORC Study results for the Cleveland Tin Project were announced on 26 September 2018, indicating a substantial increase in open pit project resources.
Site Location


Cleveland Resources
Cleveland Geology
– Stratiform semi-massive sulphide replacement ore lenses within a carbonaceous sedimentary package
– Quartz porphyry hosted tungsten bearing quartz-stockwork, greisen orebody below 350m
– Principle sulphide mineral is pyrrhotite (magnetic) with cassiterite and minor stannite and chalcopyrite



Cleveland Exploration & Development Trajectory
Elementos has a clearly defined development strategy in place for the Cleveland Tin Project.
Stage 1 – combined open pit mining and tailings re-treatment operation to produce tin and copper concentrates
Stage 2 – refurbishment and development of the underground mine to produce tin, copper and tungsten concentrates.
Recent work has involved exploration, targeting the physical limits of the potential open cut resource at Cleveland and refining the metallurgical processing flowsheet.
Recent exploration work has included a detailed ground magnetic survey followed by a 19 hole diamond drilling programme. Updated JORC study results were announced on 26 September 2018.
Cleveland Metallurgy
A significant amount of testwork has been carried out on re-treating the significant tailings resource at Cleveland. Tailings recovery testwork to-date has developed a process to a 52% Sn concentrate with a 49% recovery.
Metallurgical testwork is being carried out on recently collected drill core hard rock lode samples to assess improvements in gravity and flotation processes since the underground mine last operated at Cleveland in 1986. The historical hard rock processing circuit produced a 55% Sn concentrate with a 55% recovery.
The proposed Cleveland processing flowsheet

Cleveland Tin Project History
Cleveland Tin Project operated as an underground mine from 1908 – 1917 and more recently by Aberfoyle Resources from 1968 – 1986.
The total ore mined to date is 5.65mt @ 0.68% Sn & 0.28% Cu, producing 23,519t of Sn and 9,691t of Cu.
The mine closed in 1986 due to a collapse in tin price. At that time, the mine was recorded as showing hard rock JORC resources of 7.44mt @ 0.65% Sn & 0.25% Cu and 3.97mt @ 0.28% WO3 remaining to be mined. As mentioned earlier, significantly larger resource was announced on 26 September 2018 following a revised JORC Study.
Historical workings extend more than 400m below the surface. Mechanised sub-level overhead benching mining method was used. The conventional cassiterite recovery process of gravity followed by flotation was engaged, and the mine benefited from underground and surface infrastructure rehabilitation in1990.
Enhanced Tin Processing
Elementos is investigating alternative methods to process low to medium grade tin ores, utilising existing technology to improve yield and project economics.
Laboratory scaled testwork by Elementos on the Cleveland tailings resource has shown a 50% improvement in the yield of tin to a low grade concentrate (~10% Sn).
Follow-up laboratory scaled testwork using conventional technology has been successful in producing a high value tin metal product. Further work is ongoing to optimise this process.
Cautioning Statements
Forward-looking statements
This document may contain certain forward-looking statements. Such statements are only predictions, based on certain assumptions and involve known and unknown risks, uncertainties and other factors, many of which are beyond the company's control. Actual events or results may differ materially from the events or results expected or implied in any forward-looking statement.
The inclusion of such statements should not be regarded as a representation, warranty or prediction with respect to the accuracy of the underlying assumptions or that any forward-looking statements will be or are likely to be fulfilled. Elementos undertakes no obligation to update any forward-looking statement to reflect events or circumstances after the date of this document (subject to securities exchange disclosure requirements).
The information in this document does not take into account the objectives, financial situation or particular needs of any person or organisation. Nothing contained in this document constitutes investment, legal, tax or other advice.
Competent Person Statement
The information in this report that relates to Exploration Results and Mineral Resources is based on information compiled by Robert Goddard, who is a full time employee of SRK Consulting (UK) Ltd. Mr Goddard has been engaged by Minas De Estano De Espana, SLU as an Independent Consultant to prepare a Mineral Resource estimate and supporting documentation for the Oropesa Tin Project. Mr Goddard is a Competent Person who is a Member of the Australasian Institute of Mining and Metallurgy and who consents to the inclusion in the report of the matters based on his information in the form and context in which it appears.
Robert Goddard has sufficient experience that is relevant to the style of mineralisation and type of deposit under consideration and to the activity being undertaken to qualify as a Competent Person as defined in the 2012 Edition of the Australasian Code for Reporting of Exploration Results, Mineral Resources and Ore Reserves (JORC Code 2012).
The Australian Securities Exchange has not reviewed and does not accept responsibility for the accuracy or adequacy of this release.
Mineral Resources and Reporting
Mineral Resources, which are not Ore Reserves, do not have demonstrated economic viability. Economic, environmental, permitting, legal, title taxation, socio-political, marketing or other relevant issues may materially affect the estimate of Mineral Resources.